Is your home décor missing that one special "wow" factor? Getting the right lighting in your home can put the final touches on a space, and doesn't have to be expensive or time-consuming. With modern smart light bulbs, you can control everything from the color of your lights to their brightness, right in the palm of your hand. Using smart bulbs in creative ways in your spaces can have drastic effects, without breaking the bank. Check out these five easy design ideas that will show off your smart bulbs.
1. Backlight Furniture
Backlit furniture is a great way to make a small space feel bigger. First of all, backlighting makes items and pieces of furniture look more dramatic and elegant. Secondly, when you backlight something, you don't have to rely as much on lamps and lighting fixtures that may feel cramped in a smaller space. If you use smart bulbs when backlighting furniture, such as a couch, you have the option to raise and lower levels of brightness, which is a great way to enhance the mood of a room. Plus, changing colors can lead to interesting effects on both your walls and furnishings.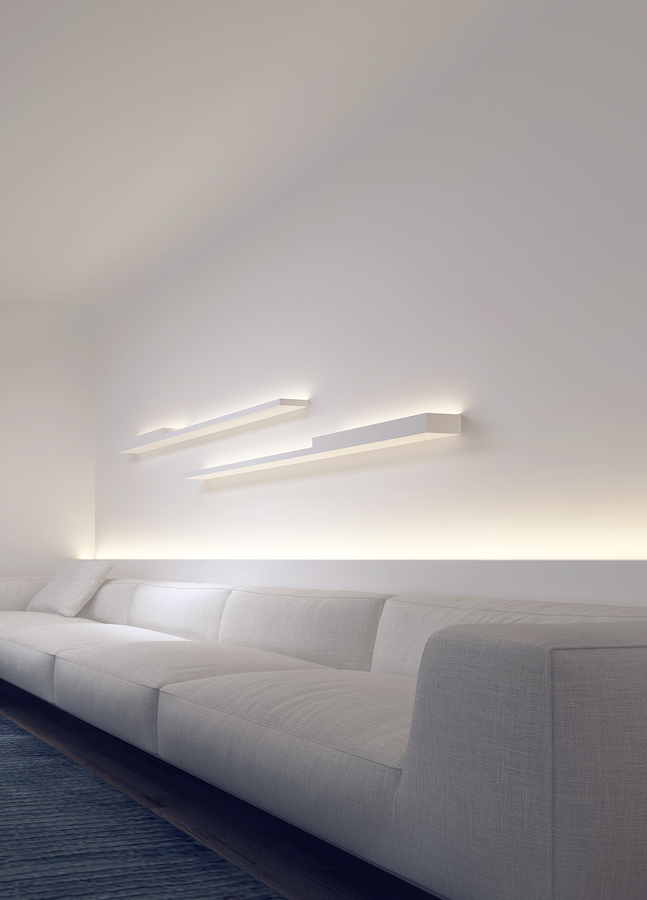 Any space can look modern with backlit furniture.
2. Use Torch Lamps
Torch style lamps are optimal for smart bulbs, because they let the bulb do all of the work, without being diffused or altered by a shade. The functions of smart bulbs particularly lend themselves to this style, since traditional bulbs can sometimes feel too bright in torch lamps. Plus, colors will have awesome effects on the ceiling, brightening the entire space.
3. The Spotlight Effect
Spotlight-style lamps and even track lighting can be a neat way to use smart bulbs in your décor. Of course, you get the benefit of having dimmers without needing to install any, but you can also change the color for unique effects. When it comes party time, your home can literally turn into a disco or stage by putting bulbs in color-changing party mode.
4. Use Color For Unexpected Highlights
Speaking of color, there are plenty of ways you can utilize different colors for design effects, which is easily achievable by using a smart bulb. Color can change the look of both your wall color and furniture. Try using bulbs in recessed or hidden areas where they can add a colorful glow that can transform any space into a modern one. Placed in the kitchen they can add a surprise pop of color to an otherwise conventional space. A benefit of smart bulbs for color? You can change the color at-will which will give you a ton of options for customizing depending on your mood.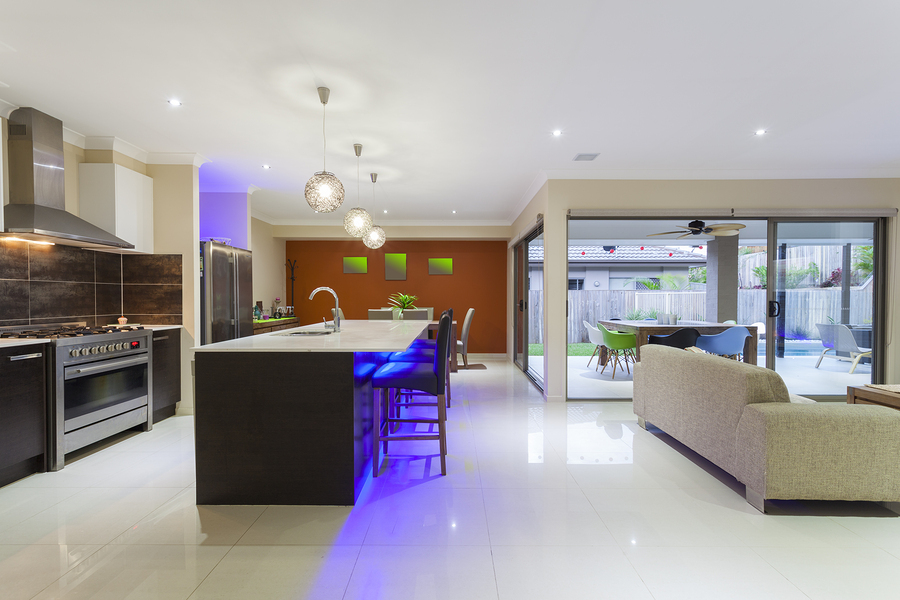 Smart bulbs let you put pops of color anywhere you want.
5. Break Up Large Spaces
Open floor plans are popular these days, from sprawling lofts to single-family homes. Using color can be a neat way to break up large spaces into different "rooms." By using different colored bulbs, each area has its own style and mood, no matter how big the space. This effect can also be recreated in smaller spaces, such as in bathrooms or over the stairs.
Don't waste another minute with subpar lighting, and shop the SmartFX store today for the best lighting for your interior needs.