With the rise of the man cave and manscaping, the Menaissance is truly here. No longer are things like skincare and interior design relegated to the realm of "womanly" pursuits; with modern technologies and styles available for all tastes, men are now trying their hand at designing their ideal environments. Lighting, in particular, has become a huge component of creating the right man cave, and many forms of modern lighting are perfect for making a manly space with both style and substance.

These are some of the most popular forms of lighting for today's man caves.
Smart Light Bulbs
Imagine being able to set the right lighting for a pre-game party, and then dimming it for ideal game viewing, all without having to give up your perfect chair. Smart light bulbs are on the rise as favorites for a man cave because they allow your space to do what it does best - give you a place to let go and relax. Modern smart bulbs are typically controlled by phone apps and Bluetooth, which means you hold all the power right in your hand. Favorite team score a goal? Time to switch to party lights mode, so you can recreate the celebratory atmosphere of a stadium right in your home.
LED Strips
LED strips are great options for those who want a little pizazz but don't want to break the budget. These have become popular in recent years for both residential and commercial spaces because they typically
use far less energy
than traditional lighting - as much as 75%! They're hard to break, long-lasting, and can convert a plain space into a custom wonderland. However, LED strips are usually best for creating ambient lighting, not as primary light sources.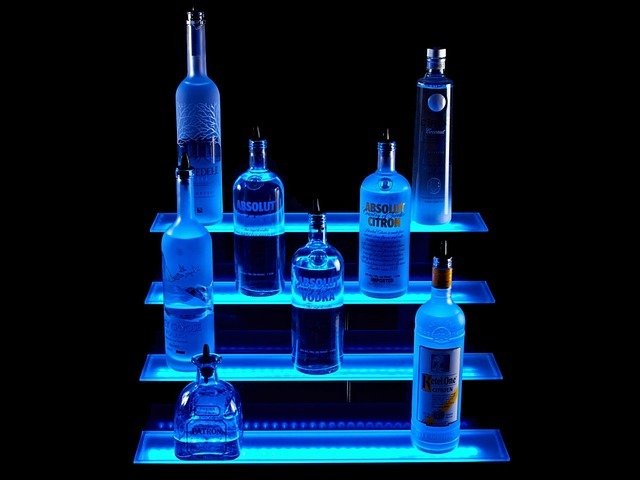 LED strips are great for highlighting areas and objects in your cave.
Bar Lights
Okay, these aren't really that modern, but they are a perennial favorite in the man cave. With neon displays of favorite brands, these are popular for men who like to recreate a bar atmosphere, right at home. Many modern versions come with quick and easy installation instructions. Again, these are typically used as decorative accents, since they won't be strong enough to illuminate your entire space.
Task Lighting
A favorite in office spaces, task lighting can be an excellent way to emphasize unique décor, or just to illuminate different tasks! These are typically adjustable so that you can change the light when working on a computer vs. when watching a TV, allowing for greater flexibility and
better viewing optimization
. That being said, if you rely solely on task lighting, you may find yourself not using all of the features because they require manual adjustments. Are you really going to walk around dimming lights in the middle of hanging out with the boys?
Pendant Bulbs
The popularity of industrial design has made it easier than ever to customize a man cave without sacrificing style. Hanging pendant bulbs have become common in recent years to replace traditional hanging lamps that used shades or covers to diffuse light. Many pendants can be easily adjusted with the installation of wall dimmers.
Ready to design your perfect man cave? The right lighting will make all the difference.
Shop the SmartFX store
to find customizable lighting that you control in the palm of your hand.